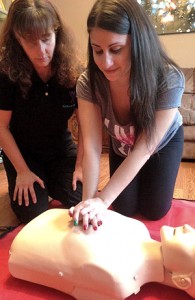 Randi Colton knows plenty about health and nutrition – things such as how to hydrate the right way and how to eat to feel healthy and happy. Colton also knows how to save lives through CPR.
Colton is a certified Health Coach and Personal Trainer Instructor who is also an American Heart Association CPR/First Aid Instructor from Valley Hospital — the Sloatsburg resident also recently added fundraising to her growing portfolio.
Colton held CPR fundraising class for women at the Sloatsburg Ambulance Corps in mid-August that helped raise funds for Doug Corbett, a Fitness Nutrition Coach at Rockland Peak Performance (RPP) who was just diagnosed with cancer in June. Nunzio Signore, owner of RPP, has planned a full-out fundraiser for Corbett at Rhodes North Tavern on Sunday, September 7 (look for more on this event at SVdotcom).
The CPR courses Colton offers range from a simple Lunch & Learn course that teaches people what to do in an emergency situation to full CPR participation and completion courses that can last anywhere from two to six hours.
fitchickfitnesslogo"I am teaching a CPR/Baby Sitting course at the Sloatsburg Library in November," Colton said about her on-going effort offer a portfolio of health and fitness instruction. "The November class takes place on the 1st and 8th," said Colton about the Fall 2-day course which will certify participants.
The CPR Fundraising class, said Colton, is an opportunity "to raise money while teaching people how to save a life in case of an emergency. It's a win win for all."